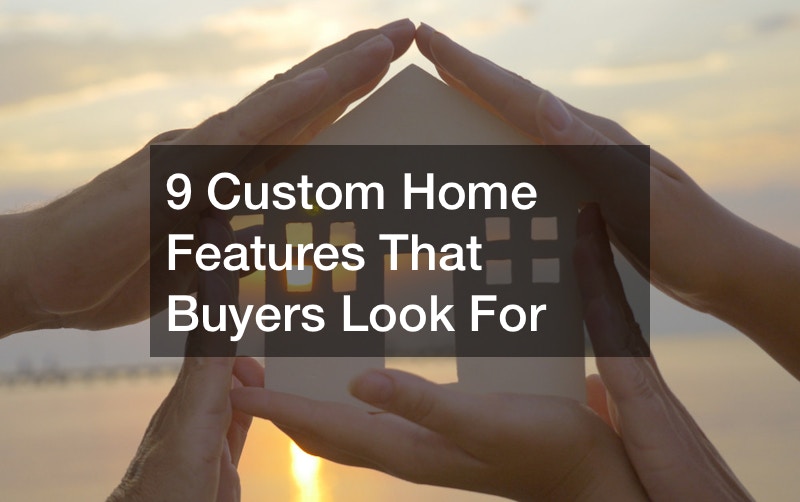 9 Custom Home Features That Buyers Look For
When it comes time to sell your house, if you are like most sellers, you believe it is the best house ever. You have a lot of emotion tied to your home that potential buyers won't have. Buyers are looking for some extra perks and custom features to make a home more appealing to them. Consider these custom home features before you put your house on the market.
Completely Remodeled
When you put your house on the market, and you tell potential buyers that you recently went through a home remodel, they are going to expect some custom home features. There may be some specific features a home buyer would like to see. These features include a functional flow throughout the house. Potential buyers want to see a house that is efficient and streamlined, especially if it just went through a remodel.
Buyers want storage space. They may look for features like customized closet systems, built-in cabinets, and storage nooks. If you are going to remodel your home, you should consider modernizing it and putting in some of the latest technology. You want to add as many energy-saving features as possible. Open floor plans are and have been quite popular. They are usually high on the list of features home buyers want. They provide more space and a better flow.
If you do any kind of upgrade to your house, it is essential that you include the kitchen and bathrooms in your enhancements. They are the most popular areas to improve. The kitchen is the space where most people congregate. Therefore, an upgraded kitchen and bathroom may make the house more appealing overall. In addition, you want to consider improved insulation, an efficient cooling and heating system, and more energy-efficient appliances.
Bring on the Light
Potential home buyers are going to be interested in the windows. They want windows that are relatively new. If you are considering replacement windows, you may want to add some custom home features to them. You can have window installations of all sizes and shapes. There is truly no limit to the amount of customization that you can find with windows. When you start customizing windows, you want to be sure that they match the look of the house. If you have a traditional home, you don't want to install modern windows. That won't be an appealing look to buyers.
You do want to install energy-efficient windows. Most likely, any window you select for an upgrade is going to be more energy efficient than the windows you currently have. They can provide additional insulation from cold and heat. They can also help to reduce energy bills. Be sure to select a material that is high-quality and durable. You can consider fiberglass, vinyl, and wood. Windows that are easy to operate are a popular choice for buyers. You will find that it is more convenient and easier to use and clean. Most windows are going to provide some amount of noise reduction. However, you can select windows that provide additional noise reduction. This is beneficial if you live in a loud neighborhood, congested area, or by a highway. New windows may also provide additional security, especially if you select ones that have reinforced glass or locking mechanisms.
Unique Doors
You may not think that having a unique style door is something that a potential home buyer is interested in having, but it is often one of the custom home features they like. One of the custom considerations you can make is frameless glass doors. Frameless glass doors are modern, minimalist, and sleek. There are additional benefits to installing a frameless glass door. Frameless glass doors allow for an increased amount of natural light to come into your home. This helps improve the brightness in your home along with the overall aesthetic of the house.
A frameless glass door creates a seamless transition between indoor and outdoor living spaces. This gives you the ability to increase the way you enjoy the outdoor areas of your home. You may not realize it, but when you upgrade to frameless glass doors, it can increase the value of your home. Many buyers see them as a high-end feature. However, they are durable and strong, which makes them resistant to wear and tear. When making this decision, you should consider factors like your budget, preference, and climate. These factors can impact the doors you choose.
Don't Overlook the Fireplace
Another way to consider custom home features is fireplace repairs or replacement. A great way to customize the look of your fireplace is to select a new surround and mantel to match the style and aesthetic of your home. Some of the options that you can select include wood, stone, and tile. When you consider a fireplace insert, it's a great way to upgrade an old fireplace. You can also improve the efficiency of the fireplace. There is a wide variety of materials from which you can choose. The materials include electric, gas, and wood-burning.
Another consideration is a fireplace screen. There are a wide variety of screens that, include decorative screens, flat screens, and screens that have doors. In addition, you can add decorative accents, including candelabras, fire tools, and fire starters. You don't want to overlook the flooring and the hearth around the fireplace. You can customize the way your fireplace looks with stone, tile, or other materials.
You should consider making repairs to your fireplace, especially if it's not working properly. If you can see damage or if it doesn't seem safe, you should consider having repairs. Some of the repairs you may consider include missing mortar, cracks in the chimney, or a flue that isn't working. When you repair damage to the fireplace, it can prevent further damage. You also preserve the integrity of the fireplace and improve its overall life.
Outdoor Space
Some of the custom home features you should consider before you put your house on the market is improving your outdoor space. You can enhance your outdoor living space with additions like patios, decks, and a landscaped yard. These are popular options that many buyers are looking for when they want to buy a house. You can contact a patio paving contractor to help you create the perfect outdoor space. You can create a space ideal for relaxing and entertaining. You can also customize the space with fire pits, lighting, and built-in seating.
Another consideration for your outdoor space is a garden which gives you a backdrop of color and lush surroundings. You can add flowers, plants, and trees that match your preference and style. Adding outdoor lighting is the ideal way to add functionality and brightness to your outdoor space. Again, you can customize the features, colors, and styles. A custom addition to considering is an outdoor kitchen. This is the perfect way to improve your outdoor space. You can customize it with features such as a grill, sink, refrigerator, and storage. Another custom feature to consider for your outdoor living space is a fire pit. This can provide a space for gathering with friends or relaxing at the end of the day. You can create a custom fire pit by choosing from a variety of designs and materials.
Your Roof is Always Important
Before you put your house on the market, you want to ensure your roof is in good shape. If not, it may be worth it to you to replace or repair the roof before you put it on the market. Potential homebuyers are interested in a house with a new roof. You may not consider your roof to fall under the category of custom home features, but it can. There are a number of ways you can customize your roofing material. Asphalt architectural shingles are among the most common types you can select. You can opt for something a little different, like cedar shake, metal, tile, or even a green roof.
Adding a skylight to your roof is considered a custom design that you may not find in many houses. A skylight allows natural light to come into your home while also giving you a unique feature that may draw in more potential buyers. While making roof repairs or replacements, it's the ideal time to add more insulation. Upgrading your insulation can help make your home more comfortable while reducing electric bills.
Gutters Matter, Too
While you may not consider gutters high on the list of custom home features, they can be. Gutters are critical because they move water from the roof away from your house and foundation. They tend to be more functional than pretty; however, you can customize them. You can choose from various materials, including copper, aluminum, or galvanized steel. In addition, you can select a color that matches the style and look of your house. Finally, if you are so inclined, you can customize the shape of your gutters by selecting K-style gutters, half-round gutters, or fascia gutters.
Another consideration is seamless gutters. These gutters are one continuous piece of material without any joints or seams. This type of gutter can help you customize its functionality and look. To continue to customize the way they look, you can add accessories to your gutter. This includes items like gutter guards, a gutter cover, downspout extensions, or splash blocks.
Trim Those Trees
You may find that tree trimming is not only one of those top custom home features but also something that is necessary. It is important to remember that it can also be a dangerous job. While trimming trees, it's critical to take proper safety precautions. Safety precautions include wearing personal protective equipment and being aware of the surrounding area. It is also essential that you use the right tools for the job. You want to ensure they are safe and in proper working order so you can trim them safely and effectively. Any tools that are used for tree trimming must be properly maintained and sharpened to be appropriate for the job.
You should keep in mind that tree species are different and may have different trimming requirements. It may be necessary to hire a professional to ensure that your trees are trimmed properly. It's also important to keep in mind that trimming your trees removes dead or dangerous branches that could fall and cause damage or injury. Trimming your trees regularly promotes a tree's health by removing diseased, dead, or damaged branches, allowing the tree to direct its energy to healthy growth. The opposite is true, too. If you leave dead branches on a tree, it can spread disease and prevent other trees from growing.
Estate Planning
While it may seem odd to consider estate planning one of the custom home features buyers are interested in, it may be an essential step for you. An estate planning attorney helps you create a plan to distribute your assets while ensuring your wishes are respected after your death. In addition, an estate planning attorney can help minimize gift and estate taxes for those who receive your estate. This can protect your loved ones while also reducing the amount of your estate that is lost to taxes.
When you hire an estate planning attorney to help you create a plan, it helps to minimize the need for probate. Probate can be a time-consuming, exhausting, and expensive task. Another goal of an estate planning attorney is to ensure that your wishes are respected and that your family members are taken care of after your death. You can include specific concerns in your will, such as who will care for your minor children. You can also put a plan in place for your assets if you become incapacitated or unable to make decisions for yourself.
There are many ways to enhance your home with custom features that buyers may like. Consider starting with this list. Don't forget to take steps to protect your assets after you pass away.