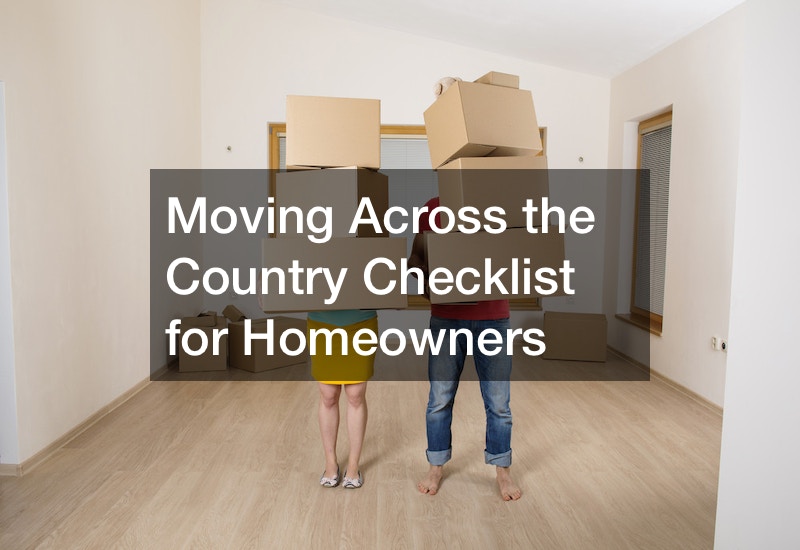 Moving Across the Country Checklist for Homeowners
If you're on your way to starting a new chapter across the country, you may get worried about how you can take control of the various activities that you should do. Use this comprehensive moving across the country checklist to calm your nerves and accomplish the process of moving across the country in style.
Pre-Move Tasks
Two Months Before Moving Across the Country
In most situations, two months is a long time, but not when you're relocating. As part of your moving across the country checklist, you must take advantage of each day to improve your moving steps even slightly. It's important not to panic even if you already have two months before relocating to a new place. Follow these stress-free steps as you start the moving-out process, and you will make it to your new home with a smile and the enthusiasm to start unpacking immediately.
Assemble all the Required Documents
Since most of your relocation preparations will be conducted online, you'll need a place to save electronic records. Google Drive is recommended as part of your moving across the country checklist because even if you misplace your device by mistake, you won't lose the files that you have already collected. It's also advisable that you create and name appropriately the Google Drive folder where you will keep photos, receipts, and quotations. You won't believe how often you refer back to it.
Know The Available Moving Companies
If you're relocating across the country, you'll likely use the services of local movers or receive financial assistance from your organizations. In the case whereby your employee will take care of the relocation, you should understand what they are covering and what you will be responsible for. When searching for the best moving company to help you with relocation, it's a good idea to check reviews online and ask for referrals from people you know. Researching the local moving companies early is important, especially if you're moving large and sensitive items like a piano or priceless artwork.
Create a Budget
Moving across the country is not only tiresome but also expensive. Therefore, you should create a budget and make it part of your moving across the country checklist to avoid overspending on unnecessary stuff. Your budget should put into consideration factors like the rental trucks, roadside assistance, cost of local movers, lodging, and meals.
If you're planning to drive by yourself across the country, you need to have a good estimate of the amount of money you will spend on petrol and an emergency fund to help you in case you run into an unexpected vehicle breakdown along the road.
Remember also that even if your firm offers a relocation package, there will still be other costs to cover. If your fine art isn't covered by their insurance, for instance, you'll have to foot the bill for packing it up and transporting it yourself.
Six Weeks and Less Before Moving Across The Country
Review The Insurance Policies
Confirm whether the insurance offers coverage for fire, theft, and other perils. It's possible that your insurance company will need you to switch to a new policy if you're moving to a new state. Reviewing the renter's and homeowners insurance policies will help you make the necessary adjustments and stay covered in case any uncertainty happens.
Keep Inventory of Your Belongings
Hopefully, you've already narrowed down your list of must-haves for the trip. The next step is to take an inventory of what you own. It is important to document the status of your household belongings in case of damage or loss. Renters or homeowners usually do this to stay updated and cover every detail required as they purchase insurance policies. The best way to keep a record of your belongings is by taking images and videos with the existing configuration.
Find Boxes and Other Packing Supplies
This is a fundamental step in your moving across the country checklist because you won't actualize the relocation journey without the proper mobile storage materials. If a moving company handles everything, you may just need a few boxes. However, if you're doing everything on your own, you'll need a strategy on where to get free moving boxes.
Hardware shops and moving firms are good sources for moving boxes, but if you want to save money, try asking local businesses if they have any extra boxes you may have. Outlets such as supermarkets, liquor stores, department stores, discount warehouses, and office supplies usually supply both small and large mobile storage equipment at affordable prices.
Discard The Unnecessary Items
Cleaning out your entire home in preparation for a move is a great idea. Since you have to pay to transfer each individual item, you should avoid moving any more than is really necessary. You will save a lot of money by getting rid of the old, sagging sectional sofa and buying a new one later.
Order Home Cleaning Services
When preparing for a long-distance move, the last thing you want to think about is cleaning out your old home. For this reason, employing a reputable cleaning service is crucial. You'll save time and energy, and their cleaning service will leave your home looking ready for new tenants.
Let's imagine you've decided to make the trip from sunny California to bustling New York City. The last thing you want to do on moving day is clean your old house after spending weeks organizing, packing, and relocating your possessions. The time you save by hiring a cleaning service might be put to better use during the actual move itself.
If you lose your security deposit, you might try to get it back by hiring a professional cleaning service. Landlords typically want their rentals to be returned in immaculate condition. If you pay cleaners to come in and make the house spotless, your landlord has no reason to keep the security deposit. In the long run, it might be more cost-effective if you had someone else take care of the house cleaning instead of doing it yourself.
Prepare Your Pets
If your pet has never been in a car before, you may want to take it for a few short rides first to observe how it does. That helps in preparing your pet for the long and tiresome journey of moving across the country. In addition, depending on the length of your trip, you may need to purchase a kennel, seatbelt, and food and water bowls. Finally, if you are concerned about nervousness or motion sickness of your pet, you should see the veterinarian. Veterinarians handle different animals and charge varied amounts. Therefore, call your specific veterinarian beforehand to learn the specifics, including fees, as they might add several hundred dollars if you plan on bringing a large or exotic animal.
Plan For Family Care
Who will look after the kids on moving day so you pack and get everything ready? Is there anyone who could watch the kids for a day or two while you pack the truck? It's important to plan ahead for your child custody before the actual day of relocation. You can opt to take your dog to the daycare or plan a playdate for them, but what will do to those plants? Many people treat plants like members of their own families. Therefore, if you're among them, you should prepare how you will relocate your houseplants or give them away. Most movers, especially those doing long-distance or interstate relocation, will not transport houseplants unless you offer a special request.
Check and Confirm The Fine Details
If you take the time to verify everything in advance before the moving day, you may avoid any problems. From the movers to the new house, there are many details to attend to during a relocation. Before the big day, make sure you've double-checked your pickup and delivery dates, the range of your insurance, and the total cost of the relocation. This will help you feel more at ease with the move and lessen the likelihood of any surprises or misunderstandings.
Moving to a new house or office, or any other big life transition, follows the same pattern. Make sure you know when you can move in, that your utilities and services are connected and working, and that you understand the rules and regulations of the building. Taking care of these things ahead of time will make moving much easier.

Moving Day
You will mitigate the chaos and stress that comes along during the day of moving across the country with careful planning and staying organized. The first order of business is to make sure you have everything on your moving across the country checklist. You can do anything from stowing away your last few possessions to turning off the utilities at your former home.
It's a good idea to contact and confirm the movers' arrival time and other details before they show up. When you check in, make sure your pickup and delivery windows are clear, your items are properly labeled, and any notes you left are accurate. Problems and delays during the transfer are less likely if the movers are well-prepared.
Take one last look around your old home once you've finished packing to make sure you haven't forgotten anything. You may use this to ensure you haven't missed anything, and it can also help you spot any lingering maintenance or cleaning tasks.
During the actual relocation, make sure to keep track of your belongings and keep everything neat and tidy. You may avoid misplacement by labeling each box clearly, keeping an accurate inventory, and being extra careful when loading the moving vehicle. A well-planned move lessens the possibility of items being lost or ruined in transportation and allows for efficient unpacking once you get to your new home.
Finally, you should relax and let go of your worries when you're done packing and ready to depart. Thinking about past successes and planning for future endeavors might help ease the stress and anxiety that come with the upheaval of moving. Take care of yourself on a moving day by doing something you enjoy, like going for a stroll around the block, having a cup of coffee with a friend, or even simply taking a few deep breaths.

What Should You Do on Arriving at Your New Location?
Although it's natural to experience a range of emotions prior to a move, being well-prepared with a moving across the country checklist will make the experience much more enjoyable and less stressful. When you arrive at a new destination, the first thing you should do is unpack and get things organized. It's not easy, but taking time will help you settle in faster and enjoy your new place more. Bedding, bathroom, and kitchen items should be unpacked first, followed by the rest of your belongings. Make unpacking easier by labeling boxes and arranging contents by room.
Now that you've had time to unpack and settle in, you can explore your new area. Walk around or drive around the area, checking out the local businesses and meeting some of your new neighbors. In the process, you will identify the essential utilities and services which will make your new location feel like home. You should also try getting in touch with service providers such as staffing agencies, junk hauler, and even family dentists immediately after learning what options are available in your area. That will help ensure you have everything you need to settle into your new home quickly and easily.
Another basic thing that you shouldn't forget as you settle into a new state is updating your address and registering your car with the Department of Motor Vehicles. Due to the length of time this may take, it is recommended that you attend to it as soon as possible. Get in line early, and bring any documentation you might need.
Last but not least, meeting new people and becoming active in your new community are two of the most important steps you can take toward making your new location seem like home. Get involved in your community by joining a club or group that shares your interests, attending local events, and volunteering your time and talents. As a result, you may find it easier to meet helpful people and integrate into your new neighborhood.
Moving across the country can be an overwhelming and stressful experience, but with the help of this moving across the country checklist, you will make the moving out process smooth and well organized. You should plan early, declutter, and hire a professional like a real estate agent to help you in taking care of the important details.
It's important to remember that every move is unique, and some homeowners may have additional tasks to add to this moving across the country checklist based on the circumstances. However, take your time, stay organized, and don't be afraid to ask for help when you need it.