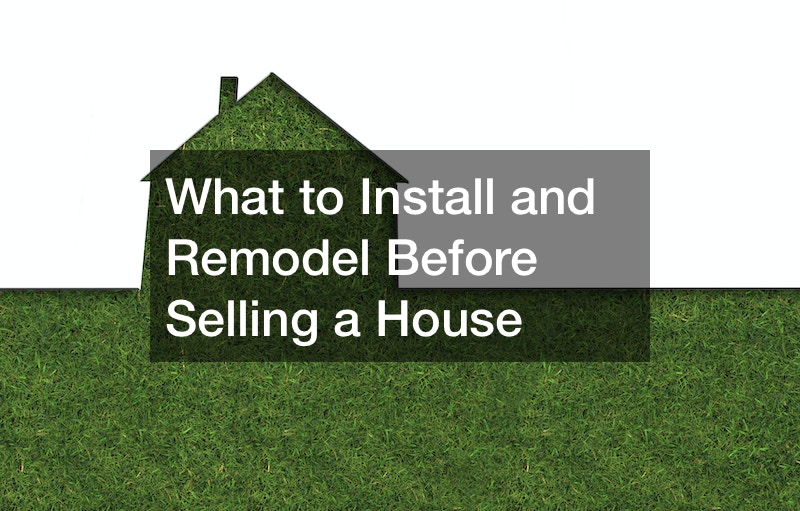 What to Install and Remodel Before Selling a House
Are you planning to list your home for sale? These ten tips on what to install and remodel before selling a house will help you prep your home for sale.
Make Your Old House Modern
The first step in selling a house that dates several decades ago is renovating it to enhance its curb appeal and value.
Speaking of renovations, you don't have to spend millions of dollars on expensive installations and structural alterations. Instead, performing smaller tweaks and redesigns can play the trick as well. Below are simple tricks you can use to remodel before selling a house:
1. Remove Any Rustic Trim Work
Old trim works and Moldings can be an eyesore to potential buyers looking for a contemporary house. If your house features any, you can coat them with paint to give them a new life. For best results, use a more vibrant coat than the one on the walls.
2. Install New Accents, And Soft Goods
Old Decorative elements like coffee tables, indoor furniture, rugs, wall art, wall shelves, etc., might give your home an offsetting style. Consider replacing them with contemporary elements to accentuate the anticipated new look. Swapping soft goods like pillows and bedding would also pay.
3. Give The Fireplace Some TLC
A traditional fireplace can look underwhelming, especially if it has accumulated grime and soot. While there are various tricks you can use to facelift your fireplace, we recommend you to clean and repaint it with a neutral color to give it a classic new look that will never grow old.
Make All Necessary Repairs
When valuing your house, prospective customers will inspect it for any flaws that might call for repairs to exclude them from the closing price. As such, you must inspect your house beforehand and repair or remodel any areas that are likely to devalue the house. Below are the key areas to concentrate on.
1. Internal Space
Clean any grime and loose debris from the interior walls and ceilings, then use a joint compound to fill any nail holes, dents, and cracks. Remember to coat the surfaces to give them a refreshing look.
This is also the right time to restructure the internal layout of your space, especially if it doesn't appeal to you. Remodeling your internal space might take any form, including creating more spacious rooms, changing the furniture arrangement, beautifying accents, etc., Be sure to call an internal designer to help you if you aren't adept at designing home interiors.
2. Electrical and HVAC Systems
Your home's electrical and HVAC components should operate flawlessly when selling your house. In addition, these components should comply with current codes as your state requires.
If you have a dated house whose components feature Zinsco/Sylvania GTE and Federal Pacific labels, and the like, it would be wise to call a professional technician to assess the entire system and replace the outdated components.
Take Care of Anything in the Home Inspection
Before listing your home for sale, you want to ensure that it's structurally sound and its systems operate flawlessly. That is why a prior inspection is necessary to identify areas needing attention. Here are some easy-to-forget elements you may need to repair or remodel before selling a house.
1. Structural Defects
Home inspections will help you identify structural defects like cracked foundations, crumbling concrete, uneven floors, warped ceilings, wall gaps etc, that may send away potential buyers. While some defects need simple DIY fixes, others, like foundation repairs, may require complex fixes, necessitating a skilled and licensed expert.
2. The Landscape
Remove any stones, dead tree branches and leaves from your lawn, as they make your home look isolated. Also, cut, edge and regrow grass in patched areas to give your yard a defined and inviting green look.
Next, trim any yellowing and dead tree branches so they don't give your lawn an old look. Don't forget to clean or replace your backyard's old-looking amenities to give it a brand-new look.
Update the Flooring
The floor is another area you need to remodel before selling a house. Remember, during the assessment, most buyers will cancel your house from their list if they note any signs of old age, like scratched wood flooring, ratty carpeting, cracked/ stained carpets, etc.
In other words, flooring creates a picture of the rest of your home and should be repaired at all costs to appeal to customers at first glance.
Ditching the carpet for good is one effective way of updating your floor. A carpet creates an impression that something is hidden under it. If you have one at your place, it would be wise to dispose of it and revamp the floor.
For instance, if you have a hardwood floor, you can sand it to remove any scratches, grime and other unwanted elements from the surface. Then, buff it to remove any sanding scratches to achieve a smooth surface. Next, clean the walls before applying the sealant to prevent dust and other solid particles from falling on the final surface.
Another way to update your floor is by retiling it with uniform tiles. If you have cracked, different-colored, or old-looking tiles at your place, retile them with uniform-colored tiles to improve their curb appeal. After all, you want a floor that would win the interest of most of your customers into purchasing the house.
Paint the Walls
Painting the walls is a great way to remodel before selling a house, as it makes it smell and look new.
If you want to renew the existing wall shades and don't have any paint remaining at your reserves, peel off the existing wall paint or a sheet rock from an undisclosed location in your home and use it to order a matching paint from the local paint store. Remember also to collect the necessary painting tools.
If your walls feature intense colors like lime green, purple, burgundy, orange, yellow, etc., then we recommend you replace these colors with neutral colors as they appeal to many people and are more relaxing to the eye.
However, that doesn't mean you overdo your walls with neutral hues. Indeed, you should limit the paints to a maximum of three neutral hues to achieve the most wanted, exciting, and vivacious effect.
Besides making your interior environment feel more attractive and peaceful, muted colors like brown, black, gray and white can practically complement anything, including home furnishings, accents etc. That's why most homebuyers will prioritize a home with neutral colors.
If you have challenges deciding the right color or mixing hues for your home, do not hesitate to seek the help of a professional handyman service.
Build a Fence
Installing a fence is a great way to remodel before selling a house. Its presence assures home buyers that their assets will be secure from trespassers, thieves and unwanted animals. It also promises homebuyers that their kids and pets will be safe.
Over and above that, installing a fence convinces prospective home buyers that they will be free from the prying eyes of neighbors and strangers.
Another advantage of installing a fence is improving your home's curb appeal. While this is good for attracting potential buyers, it also convinces the prospective buyers of a good home value should they decide to resale it later in life.
Finally, installing a fence defines boundaries and gives prospective buyers an idea of what your property covers. This information can help to prevent boundary disputes later in life.
As you can see, fencing your home comes with a whole range of benefits and can boost the value of your home.
You must check with the local building codes to ensure compliance to install one. After that, you should decide on the type of fence you need to install to know the materials you need to assemble. After assembling the materials, install the fence independently or hire a fencing expert to help you.
Modernize the Kitchen and Bathrooms
The kitchen and bathrooms are the centerpieces and the most entertaining places in every home. That is why most homebuyers concentrate more on inspecting these areas than any other space in a house before its purchase. These two areas need extra love and attention to enhance their aesthetic appeal and create a good first impression of the house.
Talking of kitchen improvements, we mean updating the cabinets, countertops, lighting, and color palettes.
On the other hand, updating your bathroom may involve changing the tiles, installing frameless glass doors, and replacing old fixtures like showerheads, bathtubs, sinks, cabinets, etc.
When making the updates in the kitchen or the bathroom, remember to keep them calm with neutral colors. If you don't know how to remodel before selling a house, hire an experienced kitchen and bathroom remodeling services expert to design and implement the changes for you.
Design a Trendy Kitchen
If you ask expert sellers and realtors, they would agree that building a trendy kitchen is a great way to boost a home sale. That means you must acquaint your kitchen with the latest design elements to make it a big selling point for your home.
By trendy kitchen, you don't have to renovate your entire kitchen. Rather, a few kitchen fixes can play the trick. Below are some helpful kitchen design trends you can apply to remodel before selling a house.
Change the Cabinetry
If you still use the old shaker-style cabinets in your kitchen, it's high time to replace them with sleek mid-century cabinets like two-toned cabinets to give your kitchen a more spacious and customized look.
Make a Statement with Lighting
Ditch the conventional fluorescent bulbs and replace them with contemporary pendant lights like globular Plaster Pendant lights to create visual interest and brighten the kitchen.
Mind the Kitchen Accents
Working on accent features like the hardware, backsplash and range hood can facelift your kitchen design significantly. For instance, you can add a handmade ceramic backsplash tile to give texture to your kitchen. You can also play with window designs and sizes to simultaneously improve the lighting and aesthetic appeal.
Replace the Roof
A roof creates the first impression of your home. Depending on its state, it can attract potential customers to come and tour the rest of their house or send them away. The former will likely result if your roof looks new and refreshed as it assures prospective homebuyers of minimal repairs.
Additionally, a newly installed roof assures homebuyers peace of mind as they won't have to worry about their safety from elements and sagging parts. To install the new roofing, you must remove the old materials and then repair the frame and the fascia boards.
You also need to install drip edge metals on the fascia boards to prevent water from destroying the fascia boards. Moreover, you have to install water and ice barriers if your place experiences harsh winter seasons.
The other material you might have to install on your roof includes roofing paper, metal flashing and shingles. As you can see, replacing a roof is one of the easiest ways to remodel before selling a house. If you are not adept, outsource the service from a professional.
Get the Septic System Checked Out
Before listing your home for sale, you would like to ensure its septic system is operating flawlessly. More specifically, you can tell that your septic system requires a quick fix if:
Water and waste from the drains, sinks and toilets are backing up
The sinks, drains and showers are draining sluggishly
You hear gurgling sounds from the plumbing system
The sinks, drains, and bathtubs are releasing a foul odor
You detect a bad odor from the septic tank, and the drains
There are algae blooms in the surrounding waters or lakes
There is lush green vegetation within the septic and the drain field, even during dry seasons
Septic repairs can get messy, especially if not done correctly. Ensure you call a septic service immediately if you experience any of the above signs.
Final Remarks
Above are the things you need to install and remodel before selling a house. Implementing them will improve your house's value and facilitate quick sales by attracting new prospective buyers.