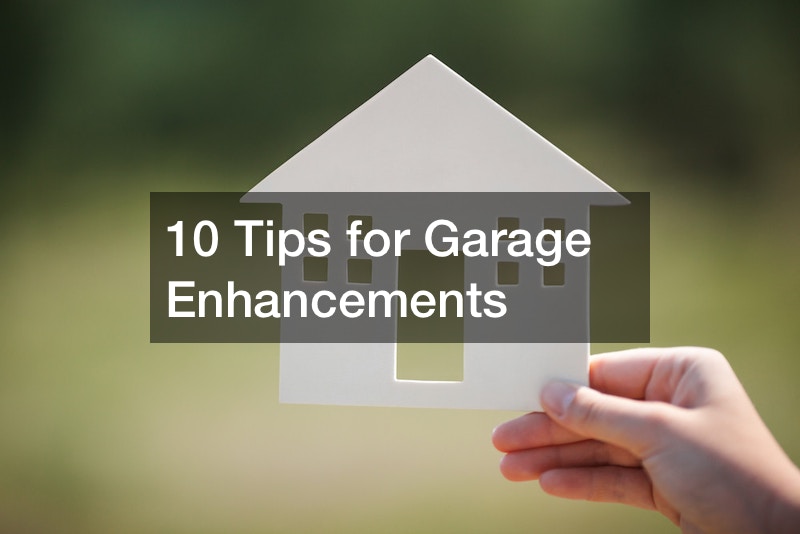 10 Tips for Garage Enhancements
Home décor and home improvements don't stop at the door between your home and garage. You can improve your house with garage enhancements that add to curb appeal, utility, and save you money on utility costs. Let's dive into how a little work on your home's garage can add to its current and resale value.
1. Improving the Garage's Interior Flooring
Many garages feature cement floors, but those crack and crumble easily. To add to their lifespan and increase their performance, consider adding sealant to a cement or concrete floor. Redoing the garage's foundational layer with an epoxy garage floor can also improve its utility and its looks. Of all possible garage enhancements, this one adds to the room's appearance the most.
Upgrading the garage floors also offers a better look and utility when using the room for other purposes. A sealed cement floor or epoxy floor provides a better floor for a workshop or washroom. The sealants used to coat the floor increase its resistance to stains and chipping.
2. Start with a Sparkling, Empty Garage
If it sounds impossible to envision your garage empty, you probably need to hire one of your local garage cleanout companies. These professionals offer the best solution to those with hoarding tendencies. A cleaning company won't have attachments to the many items you store in the garage, so they will toss what you don't use. Stipulate which types of items, such as bikes or camping gear, they must ask first before tossing.
Some of these companies offer to haul these items to the trash dump or landfill for you. Others sort items into trash and salvage, taking usable items like old clothes or bedding to charities like the Salvation Army. By using one of these services, you help others while making your own garage enhancements happen.
3. Add Ceiling Storage
Most attached garage designs use rather high ceilings. Make use of this copious amount of space by installing ceiling storage. These railing systems let you hang plastic bins from them, sliding the bins out of the rails when you need to access what you store in them.
Although installing these ceiling-mounted systems requires a renovation specialist, they help organize a messy garage and keep the floor space open for other uses. Most single-vehicle garages offer the space to install at least two rack and rail systems side-by-side. Each row of rails typically houses up to three large bins.
4. Installing Storage Shelves
Other garage enhancements for storage can use available wall space. Although this typically means losing between 12 to 14 inches of floor space, converting one wall to shelving provides ample storage space that moves boxes and bags from the floor to the wall. This means you can suddenly park inside your garage instead of using it only for storage.
Build a Bathroom
Nothing provides a more useful garage enhancement than a toilet and sink. When you put in a bathroom in the garage, you save yourself from constant trips inside the house while working on the car or a workshop project. That fact saves you money in the long run because you no longer lose heat or cooling each time you open the door connecting the garage to the house.
Even though you build the bathroom in the garage, it still counts toward the number of bathrooms in the home. Adding a bathroom, even a half bath, adds to the home's value. Although a full bathroom can cost about $20,000 to install, a half bath requires less plumbing and fixtures and, therefore costs less. If you site it on a shared wet wall, such as the kitchen wall that features the sink, you can save money on the installation.
5. Build a Utility Area
Also, consider garage enhancements like a washroom or wash area. This can include erecting dividing walls to create a separate utility room or simply delineating an area for its installation in a larger garage. Either way, this improvement requires hiring a plumber and an electrician to install the lines and wiring for the washing machine and dryer.
Although it costs a few thousand dollars to create this area, once installed and outfitted with appliances, you never need to head to the laundromat again. That can result in real savings over time because trips to the laundry include a financial cost for each wash load, plus a time cost and transportation costs. Depending on how long you plan to reside in your home, this can quickly result in a project payback for you. Regardless of how long you reside there, a washroom/utility room adds to the resale value of your home.
6. Upgrading the Yard and House Entry Doors
Many mid-century home designs feature an entry door to the yard, in addition to the garage door. These doors can benefit from screen doors, just as back doors and front doors do. Installing a screen door helps keep insects and rodents from sneaking into your garage, and ultimately, the rest of your home.
Also, consider installing a screen door or storm door on the door between the garage and the main home. This creates an added security barrier and prevents insects and rodents from entering. Hire a general contractor (GC) or master carpenter to handle the installation of these important exterior doors.
Among the garage enhancements most people wish for, but don't add garage door screens. Why don't more people add them? They don't know they exist. Garage door screens don't receive a lot of hype, but if you work a lot in your garage with the bay door open, adding one of these screens can prove invaluable.
7. Fix a Broken or Worn Garage Door
Garage door repairs help you in two ways. They increase your home's security and they add to its curb appeal. Both of those items increase the resale value of the home.
Many types of garage door damage only require a simple fix from your local garage door repair and installation professional. For instance, broken garage door spring replacements can save most garage doors. A professional repair team can also replace worn ball bearings, a malfunctioning garage door opener, and many other small items.
How do you know if you need garage door replacement or repair? A dented or torn door needs replacing. Most professionals can repair small problems like an improperly installed door or a door that simply came off of its tracks. A severely damaged door needs replacing though since it affects the security of the home.
The costs of replacing a garage door vary by location but typically expect a materials and labor estimate to start at about $1,000. Residential garage doors cost between $800 and $4,000, depending on how fancy a door you choose. The labor costs come in at far less than the materials.
Avoid needing garage door repairs by investing in regular maintenance. Many maintenance tasks you can handle, such as manually opening and shutting the door once a week to check for squeaks, squeals, and other sounds that the motor of the opener might mask. Also, open and shut the door using the garage door opener to check for sounds that indicate a problem.
Beyond that and adding occasional WD-40 to the ball bearings, buy a garage door maintenance plan from your local installer. These plans let you pre-pay for the maintenance, including small parts replacement and other materials. Using this type of professional maintenance plan results in catching growing problems early and stymying them before they grow larger.
8. Remodeling a Garage Door to Revamp Curb Appeal
Certainly, a new garage door can revamp your home's curb appeal, but what if your budget lacks the $1,000? One of the least known, but handiest garage enhancements comes from the advertising industry. The same technology that creates automotive wraps, the vinyl coatings that turn a car or truck into a mobile advertisement, also can revamp the exterior of a garage.
Many manufacturers offer these garage wraps and you don't need one local to you because most of these products don't require professional installation. Choose from vinyl wraps that look like old-fashioned barn doors or one that features a Hawaiian sunset. Theme wraps let you change your garage door's look to suit the holidays, whether Hanukah, Christmas, Yule, or Kwanza. Shop online for these fun garage enhancements, have them shipped to your door, and install them yourself.
Some vinyl wraps fit onto the garage door like slipping a sock onto a foot, while others fit on with elastic strips around the door corners. Others come in panels that adhere directly to the metal or aluminum of the door. Which type you choose depends on your door and desires.
9. Insulate the Garage
Add insulation to the garage to improve its comfort and reduce your home's utility bills. Air leaks in an attached garage can increase the home's drafts, so adding insulation in the garage stops those drafts from happening. Although you need to hire an insulation installer for blown insulation, you can typically add insulation to the garage on your own if you choose panels or roll insulation.
10. Other Garage Improvements
Improving the curb appeal and garage does not only mean improving the garage itself. You also need to address the areas outside the garage and leading up to it. That requires landscaping and hardscaping.
Start by adding or renovating your home's hardscapes that lead up to the garage. This means the driveway and any walkways leading to the garage from other areas of the home. Consult with a cement contractor or mason to determine the best way to revamp your driveway.
Consider installing a rock wall along the edges of the driveway or edging it in some other type of material to separate it from the remainder of the yard. This can help when teens start learning to drive because they can't drive off of the driveway while learning to back, park, and pull into the driveway and garage.
Although it isn't typical to use the same epoxy or sealant on the driveway as in the garage, you can add sealants to the driveway that help protect it from the elements. This works well whether you install or renovate a driveway or carport. Consider using the same sealant on the walkways, too, to beautify them and improve their utility.
Don't forget the roof. Garage roofs too often get ignored by the homeowner, who hires a roofing contractor to redo the home's roof, but forgets about re-roofing ancillary buildings like a detached garage. Roof every building at the same time, so you know that the contents of each remain safe and that your curb appeal receives the biggest boost possible.
Getting Started on Garage Improvements and Enhancements
Many options abound when you want to enhance the appearance and usefulness of your home's garage. Take stock of what your garage already features and provides. Make a list of what you want to add to it. Order your list according to which items require prerequisite work.
Before you could install appliances like a washing machine, you would need a plumber to drop water lines and an electrician to install 240V electrical lines. Only then would want to epoxy the floor and install the new appliances after it dries.
A little improvement to your home's garage can result in a massive improvement to your curb appeal. Every curb appeal improvement increases your home's value a bit and with enough enhancements, you can significantly increase the home's value without adding onto it or renovating the interior.
A little improvement to your home's garage can result in a massive improvement to your curb appeal. Every curb appeal improvement increases your home's value a bit and with enough enhancements, you can significantly increase the home's value without adding onto it or renovating the interior.
Don't let your home suffer from poor curb appeal when a garage update could easily transform it. Add to your home's beauty with a vinyl wrap, a new garage door, or pathway updates. Also, revamp the garage's inside to make it more useful.