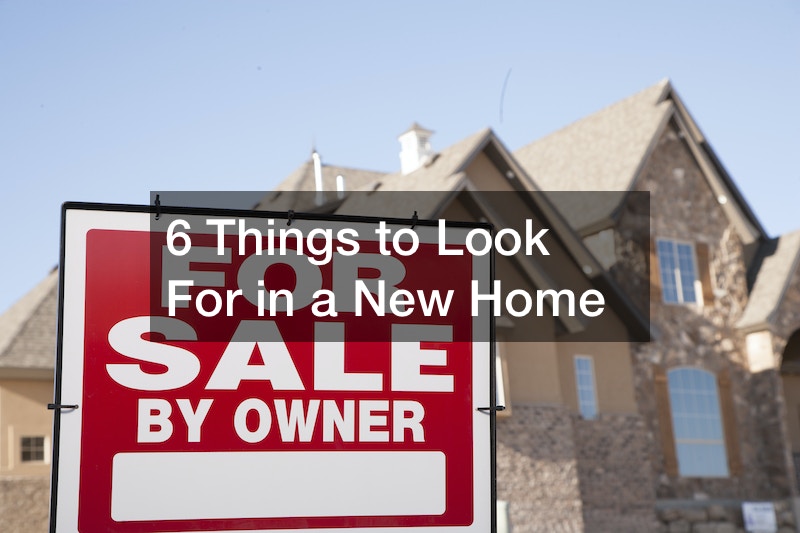 6 Things to Look For in a New Home
Are you looking for a new home? If so, it's an exciting time trying to find the right home that could fit you and your family. However, it can also be stressful trying to find the right space to suit your needs. Moving into an existing home means there are several things you'll have to check for. While no home is perfect, the more features your new home has, the fewer renovations you'll have to worry about after you move in. Here are a few things you should ideally look for in a new house before making the purchase.
1. An Open Concept Kitchen
A quality kitchen is often the centerpiece of any home. After all, it's the place where you store your food. It's where you prepare and cook food. It's the spot where you and your loved one have morning coffee and where you and the family share your meals beside the dining room. It may also be the centerpiece of your home entertainment and family holidays. So most home buyers want a kitchen as ready-made as possible. One of the most popular types of kitchens current home buyers prefer is the open kitchen concept. Using a kitchen open concept means access to better traffic flow. You and your family can experience a seamless flow between the kitchen and other living spaces, so whenever you're cooking, preparing, or eating, you don't feel like you're separate from anyone else that's in the home.
Take, for example, the Super Bowl. The Super Bowl is one of the biggest times of the year for family and friends to get together. So if you're the one in the kitchen making all the snacks and dips, do you want to end up missing the game? What about Christmas, Thanksgiving, and other holidays? The whole crew will have more space to gather around the kitchen helping each other out. People in the kitchen can still feel a part of the conversation and overall holiday mood, along with anyone who's sitting in the living room.
Another benefit of an open kitchen is more natural light since you have fewer walls. Therefore, you'll have the illusion of more space, even if it's not necessarily more square footage than a walled-in kitchen. Your kitchen will feel brighter, and more inviting, and will be a place where everybody can socialize any time of the day.
2. Updated Bathroms
When it comes to home renovations, bathroom renovations are almost as popular as the kitchen. If you're like other home buyers, you'll likely thoroughly check out any bathroom in the home you're looking at, especially the master bathroom. The bathroom is one of the most vital parts of a home as it's the place where you must bathe and relieve yourself daily. So you need functioning and updated plumbing systems and fixtures. Otherwise, old fixtures could end up costing you in terms of water bills. According to the EPA, the typical American toilet can use as much as 5 gallons of water per flush. However, if you view a home with a bathroom already equipped with dual flush toilets, that means you'll have a home in which each toilet flush will only use slightly more than one gallon per flush. Such a feature can save you on your water bills and overall water consumption. As an eco-friendly person, you can pride yourself on not using excessive water if the bathrooms already have updated fixtures.
Your bathroom should be as functional as possible. Note the overall layout and placement of the fixtures. Is the toilet right up against the tub or shower? Is it difficult to move around? Do you feel it's too easy to slip and fall when bathing? Then there's a case for adequate storage. If the bathroom already has built-in storage, such as a vanity or other cabinets, it'll already be a comfortable place for you to store all of your items, including some linens, without filling up a hallway closet.
Today's home buyers should also look for proper ventilation in the bathroom. Ventilation doesn't just matter when you relieve yourself on the toilet. This feature is a necessity because the bathroom is usually the dampest room in your home. So if you and other people in your home are constantly showering there is no room for air molecules to escape. It can create a breeding ground for mold and mildew. According to Qipa, it only takes mold 24 to 72 hours to begin sprouting on a wet surface. That mold can wreak havoc anywhere in your bathroom. It can grow behind a toilet, under the sink, within the cracks of your tiles, and so on. That's why it's important to have a window or an exhaust fan, so that particular room always has a way to dry out after you shower or bathe. Otherwise, if mold begins to grow in your bathroom, it can quickly become a health hazard that can result in respiratory issues such as asthma, emphysema, and other allergic reactions. To get rid of mold, you'll have to call a mold remediation professional, which would be additional money from your home budget.
3. A High-Quality Roof
Your roof is a part of the home that adds to its overall structure. It protects your home from the elements and helps prevent air leakage. While today's home buyers will need access to quality roofing contractors, it doesn't mean you should inherit a home with a poor roof. It's best to find a home that recently had a new roof installation, or at least has passed an inspection with flying colors. If you decide to take on a house that doesn't have a high-quality roof, you can end up having a major expense on your hands. Professional residential roofers will tell you that the type of material you use on your roofing matters and affects how often you'll have to repair or replace your roof. According to Bob Vila, metal and slate roofs can easily last 50 to 70 years with good maintenance. While asphalt tailing is popular and can last for about 20 years, it may not always be the best type of roofing to have in certain climates. Home buyers shouldn't be afraid to ask what material the roof is made from, so they have a good idea of how long it can last. After all, a metal or slate roof can last the remaining lifetime of the person buying a home and may still be in good condition if you decide to pass it on to your heirs upon your death.
4. A Reliable HVAC System
As summer ends and fall begins, your HVAC system will still be just as useful as it was before. After all, it supplies hot air in winter and cool air in summer, so your home always has a comfortable temperature regardless of the weather outside. When an HVAC system isn't functioning at its best, home buyers can expect to either pay for frequent local AC repair or an early and expensive replacement. If your home already has a functioning and energy-efficient HVAC unit, all you'll need is access to a local AC repair contractor who can make the necessary inspections and updates. As long as you keep up with the maintenance on your end, you can have an efficient system that won't cost you a lot of money. A good HVAC unit works in cohesion with a quality roof. After all, a roof is part of your home insulation and the better insulation you have the less likely heated or cooled air from your HVAC system will escape. As a result, your HVAC unit won't have to work so hard and will produce less emissions, burn less energy, and cost you less money.
5. New Appliances
Appliances always look great in your home. Imagine walking into a kitchen with beautiful stainless steel appliances. Or imagine the sight of your energy bill, because you have new Energy Star appliances installed. That's why home buyers should check for the quality and age of any appliances in a home they're looking at. New appliances often have updated features, such as smart technology that you can operate remotely. A smart home is a more efficient home in which you can program things to your liking. If you have a job where you work long hours or have to travel a lot, being able to remotely operate your appliances can give you peace of mind that things are still functioning although you're not there. Plus, if you have to monitor anyone else who's in your home and see how often they're using or misusing your appliances, you can notify them about what you're seeing on your notifications.
If you don't want to stand up at the sink all day washing dishes, get a home with a good dishwasher. Check if the current homeowner has invested in regular Whirlpool repair services or just recently bought a dishwasher before showing the home. The same should be said for your washer and dryer. If the home comes with an outdated washer and dryer it could use a great deal of water and create excessive energy bills. Think about how often you do laundry. Do you have a big family where you have to do several loads a week? If so, having the newest appliances to wash and dry your clothing and linens with is essential.
As long as you maintain such high-end appliances with regular repair and service, you'll also be able to maintain and increase your home value. If you're worried about energy consumption that affects the environment, new appliances are the way to go. New appliances are also less likely to break down, so you won't constantly be inconvenienced by being unable to use the appliance.
6. A Private Yard
It's natural for home buyers to want quality outdoor living space. Being able to walk out on your deck, or patio or work in your garden in peace can do a lot to add to your quality of life and reduce stress levels. If you have little children or animals, you should invest in a private yard. After all, kids and pets need room to play. If you have the outdoor space, they'll want to go outside and should be able to. With a private fence, the little ones can comfortably play, and you can feel comfortable since they have a confined area to be in and can't run out of.
Look at how private your yard is before buying a home. Otherwise, look into local fencing contractors that can make the outdoor space private. A private yard comes with many benefits. Not only can you keep out prying eyes, but it also provides a good way to reduce excessive noise pollution. Some neighbors, their animals, and honking cars can be louder than is comfortable for you. Anything you could do to block that noise can ensure you live in a quiet, peaceful home. A private yard can also play a role in providing quality sleep. According to the Sleep Foundation, healthy adults should get at least 7 to 9 hours of sleep each night. If your bedroom is closer to the back of the house, a fence installation can ensure you have less noise to contend with. When home buyers buy a home that already has a quality private fence built, they can just rely on a local fence repair company as needed.
Home buyers have more considerations than ever before when looking for a new home. Consider overall safety, the quality of your roof, how new appliances are, and how much you'll spend on bills. By using these above tips, you'll have a good head start on finding a home that's right for you. You won't feel you're wasting money or moving into a place that doesn't suit you and your family by following the above tips.