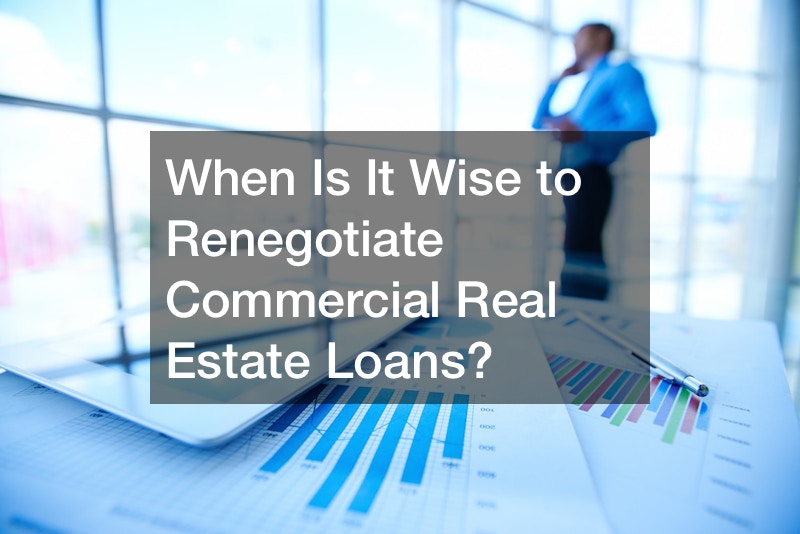 When Is It Wise to Renegotiate Commercial Real Estate Loans?
The total commercial real estate debt hit $5 trillion in 2021, a Trepp report says. If you're a commercial real estate owner, you probably took a loan to finance your project. Is your loan still serving your interests? Are you struggling with making monthly deposits?
The market is dynamic and keeps evolving, and so should your commercial real estate loan. What if you could get a better deal that serves your interests, is easier to manage, and acknowledges the changing real estate market? This post shows signs showing it's time to renegotiate a commercial real estate loan.
1. First Things First — Don't Take Out a Loan Without Negotiating
Negotiate before you take a commercial real estate loan. Massive loans like commercial loans are unlike buying a bicycle at a local dealer. Lenders expect that some customers will negotiate, so don't hesitate to ask for a better deal at the onset. Getting a favorable deal at the onset is much better, so you won't need to renegotiate a commercial real estate loan later.
The best strategy for getting the best deal is research. The market is quite competitive now, and every lender tries to woo customers with favorable loans. Without research, you'll only end up with the cookie-cutter everyone gets, even when your financial status is better than theirs. Platforms such as Bankrate and realtor can help you compare different offers. Alternatively, you can research and renegotiate your deal with a mortgage broker.
Another key aspect you should pay attention to is your financial status before taking a loan to buy a commercial property for sale. If your cash flow is currently slow, use that to renegotiate a better deal. Of course, you must prove to the bank that you can make regular deposits as planned. You should also negotiate the closing fees associated with your loan.
2. After a Failed Roof Inspection
Let's say you are about to buy a commercial property or have already bought it, then you get a failed roof inspection. Your commercial roof may fail for multiple reasons, including an aging roof. Roof work is unlike a small plumbing fixture repair that costs a few dollars. The high-cost roof replacement necessitates renegotiating a commercial real estate loan.
When you get a failed roof inspection, the first thing you should do is call commercial roof inspectors. If you're seeking a commercial real estate loan for the first time, your lenders expect you to repair the building before financing it. It's best to seek qualified roof contractors to ensure roof problems don't appear again soon.
Use the roof inspection to estimate the cost of repairs, then use the information to renegotiate a better deal with your dealer. Alternatively, you can ask for several quotes from roof contractors. Ask for a loan modification to cover the repair costs because the repair will disrupt your financial flow.
3. During Lengthy Roof Remediation Services
Sometimes, the roof remediation process can go on for extended periods, costing you money and office time. You can ask for a loan forbearance to cover the lengthy remediation service. Commercial roofing specialists may have to remove the damaged roof before installing a new roof, which takes time. Make sure to get qualified roof specialists who don't take extended periods unnecessarily.
Before starting a roof remediation service, it's best to research the market and get the best quotes. That way, it's easier to convince a lender that you're not putting yourself in a costly situation for no reason. Suppose you use your commercial property to make an income for monthly deposits. In that case, that's good grounds to renegotiate commercial real estate loans because the remediation services reduce your cash flow.
You should immediately inform your lender about the roof remediation process. You could consider shorter financing options to cover the roofing costs before the lender steps in. A good place to start is your insurance policy. Check if it covers roof remediation services, making your loan repayment process easier.
4. After Discovering Significant Foundation Problems
Sometimes, you can have unexpected issues with your commercial property, which impact your ability to repay your loan and reduce your financial flow. If you discover significant foundation problems that require commercial concrete repair, you may have to close the shop for a few days and go deep into your pockets to finance the concrete repair.
Discovering significant foundation problems is a sign it's time to renegotiate a commercial real estate loan. Inform your lender immediately, so they know you're looking for a solution and to invite them to contribute to a solution. One study by the New Jersey Institute of Technology highlights poor soil protection, poor geotechnical investigation, and water level fluctuations as the most common reasons for foundation failure.
You have two options when you discover foundation problems in your commercial property—ignore the problem and save in the short term or deal with it and incur some costs. It's best to always pick the latter option, because people's lives are at stake, and your whole building could be compromised. It's best to renegotiate for a better deal than ignore the problem.
5. When You Need to Expand Your Facility's Capacity
Other times, you should renegotiate a commercial real estate loan for good reasons, such as expanding your facility's capacity. While offices are a popular segment in real estate, you may need to expand for other reasons, especially in the ever-growing e-commerce sector. According to Statista data, the value of warehouse construction starting in 2021, was $5 billion more than office properties.
Expanding a facility's capacity will take more financing than roof and foundation repairs. However, when done right and business keeps growing, extra could bring extra streams of income. For example, if you're an e-commerce business, more space can make it easier to scale up operations and increase sales volumes and profit. Your lender might be more eager to give you a better deal, so your monthly cash flows can increase.
Research quotes from construction contractors to estimate what you'll likely need for the upgrade. For example, how much will you pay a commercial electrician for an upgrade? How much will construction materials cost? Knowing an estimated expansion cost will make it easier for your lender to see your vision and thus modify your loan.
6. When You Purchase Additional Commercial Properties
Apart from upgrading your current facilities, you may need to purchase additional commercial properties. Using the e-commerce example, you may need to buy commercial properties in a region you recently began to cover. Like a facility upgrade, additional commercial properties will add more assets to your portfolio, potentially scale up your sales volumes and increase your company presence.
These are all good reasons for your lender to renegotiate a commercial real estate loan. Conduct thorough market research before purchasing additional commercial properties. Now that you already have another loan, your new commercial property should add value to your business and not detract from it. Also, research and compare commercial locksmith services to ensure proper security in the new property. Inform your lenders that you intend to buy a new property to improve business so they can modify your loan's terms and interest rates. A better deal will ensure you can finance your new property while making monthly payments.
7. When You Need to Cover Renovation Expenses
Another good reason to renegotiate a commercial real estate loan is so you can cover renovation expenses. You may not have considered that a valid reason to renegotiate your loan deal, but it is. Through commercial renovation, you can maintain your property's value, improve energy efficiency and enhance functionality and usability. Therefore, renovations could increase your cash flow and thus make it easier to repay your loans.
Statistics from Statista Research Department show that commercial remodeling marketing has been growing, reaching $45.24 billion in 2022. So, you are in good company if you decide to renovate. However, to better your deal with your lenders, you should prove how much value renovation will add to your business and how it could potentially increase your cash flow.
If you already have a loan, keep expenses minimal and be strategic with spending. Therefore, you should research renovation companies that deliver value without drowning you in difficult debts. That way, it'll be worth renegotiating your deal.
8. When Your Business Practices Change Significantly
Businesses operate in an environment bound to change rapidly because of internal and external factors. For example, according to the U.S Census Bureau, the number of people working primarily from home tripled from 9 to 27.6 million during the COVID-19 pandemic. A commercial property owner may need a space management system in response to such changes.
Renegotiating a commercial real estate loan to match new business practices is prudent. For example, if the traditional business practices in your firm were manual input, but you have recently embraced technology, you'll need extra resources to make the changes, which could disrupt your ability to repay loans. If your lenders were to give you a better deal, you could continue with the new business practices.
Adopting a new business practice can be costly but financially rewarding. For example, switching to green energy can boost marketing efforts. Lower interest rates would give you the right conditions to switch.
9. When You Take Out Another Commercial Loan
Sometimes, getting another commercial loan may be necessary while doing business. For example, you may need a commercial loan to increase supplies, buy new heavy machinery, or purchase commercial metal buildings. If your credit is good, securing another loan might not be challenging. However, making loan payments may become overwhelming.
That's why meeting with your lender to negotiate a better deal would be wise. If you make consistent payments, they'll be even more motivated to modify loans. Apart from easing your burden of covering two loans, you may get some tax benefits from reduced interest rates.
Even with your new commercial loan, research for quotes and get deals from lenders willing to negotiate terms. Let your main lender know that you're acquiring a new commercial loan to see if you can renegotiate your real estate loan. Sometimes having a mortgage broker negotiate on your behalf could improve results.
10. When Your Business Is Struggling
Lastly, you may need to renegotiate a commercial real estate loan if your business struggles. No one wants such a predicament, but sometimes it happens. For example, during the peak of COVID-19, 34% of small businesses remained closed, according to the We Forum organization. Such events as health crises, technological evolution, and labor shortages can cause your business to struggle to stay afloat.
During a difficult phase of your business operation, the main aim is survival. This requires you to ensure you have the capital to restock or offer vital services that won't disrupt business operations. However, you might need to cut expenses in some areas. This is where loan renegotiation comes in handy. Talk to your lenders to reduce the interest rates or monthly premiums to help you run the business smoothly during a difficult period.
If you remain with your former loan agreement, the high rates could impact your ability to make loan repayments, which could ruin your credit reputation in the long run. But what if there was a way for you to keep making payments even when your business is struggling? Commercial property owners often renegotiate loans for reassurance if they have a dire predicament. A real estate attorney can represent your interests and advise you on getting the best deal.
Information can be liberating as a commercial real estate owner. Whether looking for lower interest rates, taking out another loan, or struggling business, you can renegotiate your real estate loan and get a better deal that serves your interests. Do market research, engage experts, and monitor business conditions to protect your commercial real estate investment. With this guide, you now know when it's wise to renegotiate commercial real estate loans.