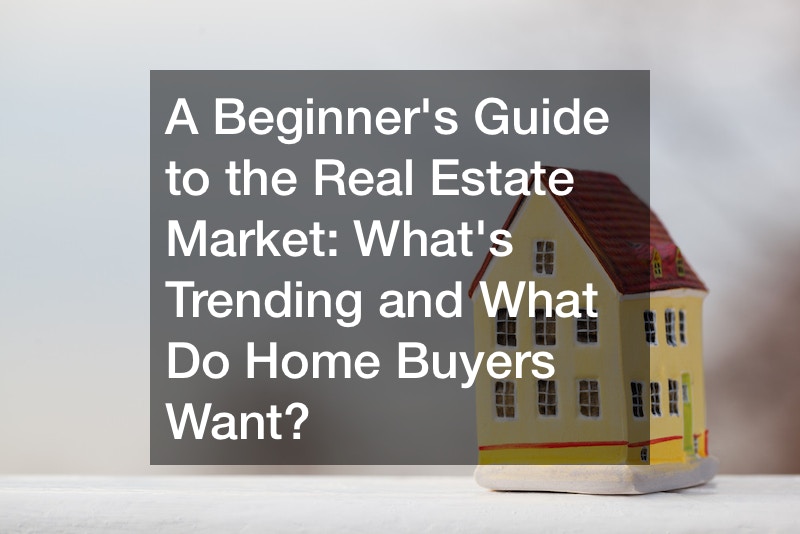 A Beginners Guide to the Real Estate Market Whats Trending and What Do Home Buyers Want?
For the vast majority of people, buying a home is the biggest single purchase they'll ever make in their lives. Apart from the colossal amounts involved, the fact that you could be relocating to a new location where you've to make new friends, find schools for kids, and probably learn a new culture makes home buying also very emotional.
Tips for Home Sellers – What To Do to Make Your Home Sell Quickly
For somebody venturing into the real estate market for the first time, choosing a home can prove very daunting. Equally daunting is the task of selling a home. As a home seller, what could make your home sell quickly? Read on to find out the latest real estate trends in the U.S., and what you could do to sell your home quickly.
When you look at the real estate market, you might be surprised to learn that some homes get listed and sell in a few days while others could take months or years to sell. Why, you might wonder, would a home sell quickly while another near-identical property gets no buyers? What do home buyers look for and how can make your home appealing?
Hire an Experienced Real Estate Agent
In the age of the internet, some home sellers assume that all they need to do is take a few pictures of the home, post them online, and then hope for the best. This kind of house selling might prove very difficult for several reasons.
First, unless you use an agent, you'll have to deal with potential buyers directly. If you're a busy person, you might not have the time for all the people who call at different times to have a look at your home. Once you've indicated that you're selling, expect calls from diverse people including agents, potential buyers, and some neighbors who might only want to know how you live.
Selling without an agent is time-consuming. Moreover, when negotiating with potential buyers, you might lack the acumen that an experienced realtor possesses. What this means is that you're likely to receive less than your property's real worth especially when your buyer is using the services of an experienced real estate agent.
When you use the services of a real estate agent, you free your time and stand the chance of getting more from the sale. Moreover, since the agent only gets a commission when they sell, you've nothing to lose and everything to gain when you contract an experienced realtor.
While you're likely to have many realtors in your location, you should only deal with a reputable professional.
As the link between you and potential buyers, your agent has to be an honest and empathetic person who understands the stresses you could be going through. The agent should be accessible and open to communication. A reliable realtor should also have invested in digital ways of communication and you should look at their website to confirm that they've invested in real estate web design.
Spruce Up Your Home
As first impressions matter in all spheres of all life, so do they in home selling. When looking for houses to buy, most people desire a home they could immediately move into without making expensive and extensive repairs. Should your home look rundown, you can expect that few people will be willing to buy it.
Some things are critical in the home buyers' considerations. First, many buyers desire to find a kitchen in great condition. Kitchens are the hearts of most homes and before listing yours you should consider kitchen remodeling. While remodeling will cost you some money, it's cheaper than getting a new kitchen and will add to the property's value and help you sell faster.
Another part of the home you must never overlook is the bathroom. While we all desire to have perfectly-maintained bathrooms, the reality is that most homes have bathrooms in a very sorry state. Should your bathroom reek of abuse, a potential home buyer will assume that the rest of the home is in a similar condition and this could be a deal killer.
While a bathroom renovation could be the way to make the room and the rest of the house look great, it might be costly. Fortunately, there are quick and easy ways to improve the bathroom's aesthetics.
Does your bathroom have evidence of mold or mildew growth? Is the floor slippery? In such situations, all you need to do is to give the bathroom a thorough cleaning. Even when there's evidence that you have an old bathroom, the fact that you've been giving it adequate TLC is a prime consideration for home buyers and will help you sell faster.
Other Home-Staging Tactics That Will Help a Home Sell Faster
Apart from the kitchen and bathroom, various places in the home require to be adequately staged to impress potential home buyers. When a home is properly staged, it'll not only sell quickly but is also likely to fetch a higher price.
While home staging has distinct advantages, it does not need to be costly. Some of the things you need to do to make your home look great and appealing are DIY jobs that the average handyman can handle.
Do you, for instance, have a dripping faucet? Is the paint on the walls peeling off? Do you have cracks and holes in the walls? These are things that you could fix at little or no expense and will help you attract potential home buyers.
To help you sell your home faster, it'd help to declutter it. A house full of clutter usually looks smaller than it is. Moreover, when potential buyers enter your home, the clutter could distract them and you're advised to keep the stuff that doesn't add value to your home away.
If you have broken doors and windows, buyers will silently add up the cost of replacing or repairing and deduct from the amount they might have been willing to pay. Should there be too many repairs that need to be carried out, potential buyers will be discouraged and this could make it harder for you to get a quick buyer.
If you lack the expertise to carry out repairs, consider hiring a home window replacement service. You might be pleasantly surprised to learn that such professionals are capable of carrying out a vast range of home improvement projects including window cleaning and pressure washing.
The Current Housing Trend in the U.S.
Covid-19 greatly impacted the housing market in the U.S. When social distancing and the need to work from home became the new normal, the kind of new homes that people desired were quite different from the kinds of homes in demand previously. Covid-19 also affected the demand and supply of homes. While the world has done much to fight the pandemic, the effects of Covid-19 on housing have persisted and will influence the real estate market in the foreseeable future.
Covid-19 Cements Digital House Hunting
Even before the advent of the pandemic, many leading realtors had invested in digital tools to aid people who were looking for houses. When Covid-19 came, forcing people to spend more time indoors, buyers seeking homes were served by a host of digital marketing tools.
Thanks to technologies such as drone videos and 3D tours, it's now possible for a home buyer to view a property they're interested in and to complete the entire transaction without ever visiting the property. Digital home hunting is standard today and when searching for a home to buy you should consider beginning your search online.
Move from the Metro Areas to the Suburbs
Another significant effect of the pandemic was the rise in demand for homes in the suburbs and away from the big cities. As a consequence of Covid-19, some people lost jobs and could no longer afford to stay in the metro areas. The result was a rise in demand for homes in states with low or no income taxes.
Another consequence of the pandemic that has influenced the housing market in the U.S. today is the desire for larger homes. While Covid-19 made it mandatory for some people to work from home, some organizations have embraced this mode of operation post-pandemic. Since the new homeowner might be required to spend plenty of working time at home, many appreciate the importance of dedicating a room in the home for office work.
Rise in Demand for Single-Family Homes
To keep safe from the pandemic, more and more people sought single-family homes, causing a rise in demand and prices for these homes. While the rise in demand peaked at the height of Covid-19, demand has eased today but single-family homes are still in great demand.
The pandemic aside, another factor that has fuelled the demand for single-family homes is the fact that these are the kind of accommodations desired by millennial home buyers. Since a sizable number of millennials are reaching a stage where they could buy their first home, the demand for single-family homes could persist. If you're house-hunting and looking for this kind of home, expect to spend some time getting a house.
Another consequence of the pandemic that has persisted is the rise in demand for mobile homes. While Covid-19 led to a rise in the construction costs of traditional homes, new buyers, especially the millennials, realized that they could reduce the cost of home ownership by a sizable percentage by opting for a mobile home.
Tips for Home Buyers
When looking to buy a new home in the U.S. today, one thing you must realize there's a huge shortage. While the population has been rising, the construction industry has not availed homes adequate to meet demand. As a result, the shortage of new homes in 2023 exceeds six million.
Despite the shortage, there are things you could do as a prospective home buyer to make the process stress-free. First, new buyers need to appreciate the importance of professional real estate agents. These professionals possess market details that the average person doesn't have and are indispensable when you're searching for a new home.
When you're operating in a market where the demand is higher than the supply, a factor that could make you stand out from other potential home buyers is the earnest money deposit that you make with your offer. If you're competing with several buyers, making a huge earnest money deposit could make your offer more attractive to the seller.
Think Location
Regardless of the attractiveness of the property you intend to buy, one factor you should never overlook is the location. What kind of neighborhood is the home located in? Are there enough amenities nearby? Is the neighborhood safe and is the property you intend to acquire equipped with additional safety gadgets such as security camera systems? When considering location, most buyers also think about the current population in the neighborhood and the demographic changes likely to occur in the future.
As a potential buyer, try to figure out how possible it will be to maintain both security and sanitation in your neighborhood in the future. Confirm that there are enough cleaning services in the neighborhood and that, when the need arises, you can get the services of a local dumpster rental company.
While some home buyers are keen on acquiring ready-made property, some have no qualms with custom home building. The beauty of the latter option is that it lets you design a home according to your unique needs. While custom homes might take time to build, they might prove more price effective than ready-made homes.
Before making a purchase, new home buyers are advised to use the services of a local home inspector. While you might have been impressed by the physical appeal of a property, you might not tell how safe the building could be.
A new home might have been poorly constructed and the foundation, roof, and other areas might be prone to damage. Other critical areas that might present lethal challenges include the home's electrical wiring and plumbing systems. An inspector will help allay any fears you might have about your home's safety.
The home-buying process is complicated and, while they could do it on their own, many home buyers appreciate the importance of engaging lawyers. To complete a transaction, there's plenty of paperwork that you might not know how to draw up and where to file. Your attorney could also help you uncover problems with the property that you might have overlooked or underestimated.